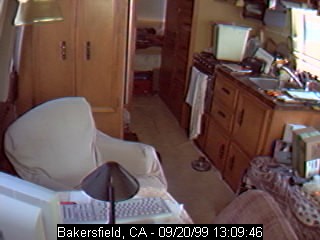 The above is using various USB Cameras - More experimenting.
If date and time is reasonably current, a camera may actually be active.
First effort: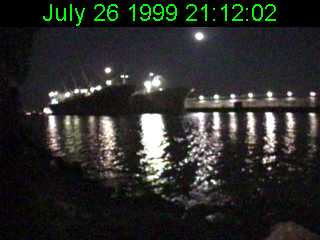 I'll leave you with a nitetime look of Stockton Harbor.
On the road and experimenting. Still looking for the ultimate wireless webcam, but no luck. Still stuck with Intel USB which besides poor quality provides for limited shooting angles/camera location. Where am I? As of July 27th... on the move.
Trying a new camera but still searching for the ultimate.

I think this is the quality I'm looking for.
(Nikon Coolpix950)
Look for more interesting stuff in the future
I hope to use my GMC Cam on trips as well as GMC events to "beam" frequent updates back to this page for all to view. Not my mug, but interesting stuff. Just what it'll be... no idea yet :-)
At the moment it'll be like watching water boil as it's at the concept stage and to experiment with ideas to overcome some drawbacks in trying to be and remain "mobile".
Once it's working, the GMC Cam will move to my Transmode's house, as in "the garage".

The picture may not change occasionally, but it is my intent to update regularily when live. As to when it is live and when not there'll be nothing that says so during the experimental stage. Once "in real time" there will be notations as to where the GMC Cam is and how/when it's updated.

This site uses ISpy, the ultimate webcam software
for Windows 95 and Windows NT 4.0


If you have some questions or comments or just wish to say
hello, please drop me an email.
This page was last updated
on Monday, April 26, 2004 05:53 PM.