I know that I don't really require trailer brakes but I'm getting them anyways, for extra peace of mind when coming down the Coquihalla.
In preparation to pick up the trailer in Quebec I faked the trailer drawbar and installed the Tekonsha Prodigy RF Wireless Trailer Brake Controller on a piece of 2x3in hollow aluminum. Theoretically it'll just be a matter of mounting the hollow aluminium with the U-bolts onto the real drawbar when it comes time pick up the trailer.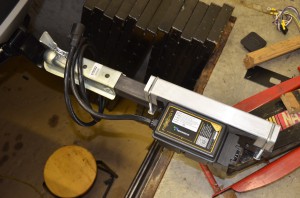 Hope to get it paired to the Hand-held remote once I get a my 7 pin plug mounted.
As it turned out pairing was easy but I did not install the brake controller for the trip home. As it turned out I was able to do a much better install once I had the actual trailer to play with.
Please note, the safety chains are not connected correctly in this picture. A correct hookup will have them crossed.
Cleaned things up a bit.