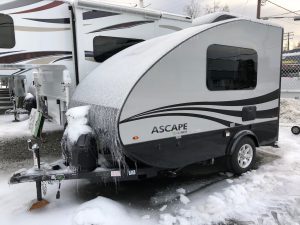 As delivered off the lot the Ascape was almost perfect, but not quite.
Modifications I made were relatively minor so far.
I added some 12 volt outlets, inside and out. Also added USB charge ports to supplement the one that came installed.
Changed TV to one with DVD and 12 volt power.
Added door accessory to keep door up when open.
Added a magnetic door stop to keep main door from flapping in the wind or risk it being damaged.
This mod turned out to be a bust: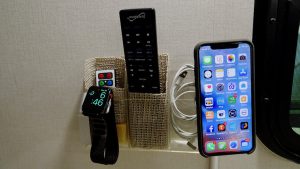 It was meant to be a convenient charging station for iPhone and watch as well as an easy place to park TV remote.
As it turned out the iPhone does not need charging unless you don't drive for a few days.
The watch does need a nightly charge but as it turned out the "station" was mounted too low as it's in ones back when sitting. Bad planning as it turned out.
I used the Command velcro strips so as it turns out, easy to fix. The only surviving tweak will be the charger for the Apple Watch and it will be re-mounted just under the ceiling.