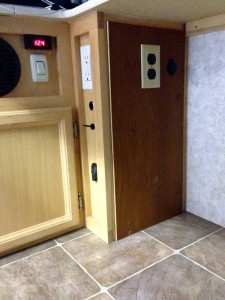 In preparation for the addition of permanent AC power and also to gain a bit more room to store the Porta-Potty I replaced the door that is used to gain access to under the sink with a piece of panelling held in place by magnetic latches. This allowed for a flat space, without a door handle taking up space.
The result: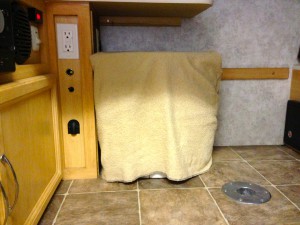 The inverter was a bit larger than expected and the installation instructions nixed the planned vertical mounting. After trying this and that I decided to steal a bit more space right next to the batteries.
I decided on the 1000 watt Xantrex PROwatt SW even though 600 watts would have been ample. The cost difference was minimal and size was almost the same. I picked the PROwatt series because it supplies true sine wave power and remote on/off and transfer switch was readily available.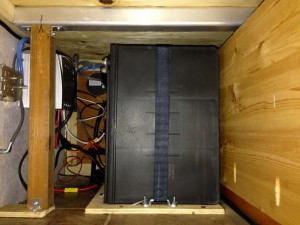 The 2 6 volt AGM's are mounted side by side on end provide 225 AH of 12 Volt cabin power.
Behind the 1 1/2 square upright is the Solar controller.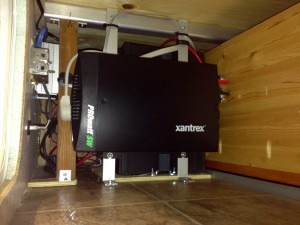 Mounting it on the side took minimum floor space.
The remote on/off is mounted in the cabin area.
The inverter supplies a brown duplex outlet under the sink/table area via and automatic transfer switch. The brown duplex outlet is to differentiate from the hydro only outlet. When hydro is available the brown outlet is powered by hydro and when no hydro available and inverter is powered up we have 1000 watts available from battery/inverter. Primary usage will be power for laptop(s) and for a 200 watt electric heater.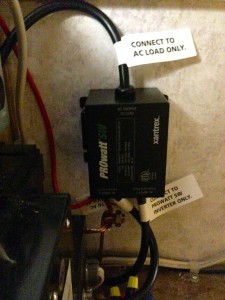 The transfer switch is mounted on the sidewall near the converter.
Power from inverter is supplied via a heavy extension cord. An extra breaker was added for the AC side.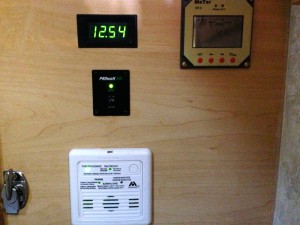 The electrical corner in the cabin consists of Carbon Monoxide indicator, which was original equipment, near the floor.
The 12.54 is a combination volt/ammeter connected directly to the battery.
Below that is the Xantrex inverter remote on/off switch.
In the top right corner is the remote for the solar controller which tells us if/when batteries are receiving a charge from the solar panels. It also allows us to turn the load terminal on/off remotely. Connected to the load terminal of the solar controller is the 12 volt supply for the Engel fridge in the tow vehicle.