I dabble in Home Automation using Indigo software on my Mac Mini and various INSTEON and ZWAVE devices.
Home Automation is a Hobby of sorts. My real work is at Byte Designs Ltd.
I recently installed a Nest Thermostat. The Indigo Plugin for it was throwing some errors and since it hadn't been looked at for a couple of years I'm dabbling to create a 2nd Gen. Plugin for Indigo.
Have created a modified version of the original Nest Thermostat plugin and am calling it Nest Thermostat 2nd Gen as I'm using a 2nd Gen Nest.
You're welcome to try the plugin but keep in mind that I'm no plugin developer and I patched it for my own use but am certainly willing to share as long as you don't mind possible rough edges.
I've been running it for several days without ill effects but there are absolutely no guarantees as to how it will behave in your own environment.
The old and new can be installed at the same time but only one should be enabled. Here is what I suggest to implement after downloading and unzipping the plugin.
1) disable the original Nest Thermostat plugin.
2) install the new one by double clicking
3) create a new device
4) once all good migrate actions, triggers, etc. to new plugin.
There is some work-in-progress re humidity settings, but those have been unsuccessful so far and have to be ignored.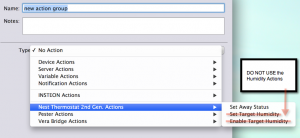 Plugin broken due to changes made by nest.com.
Working on it….