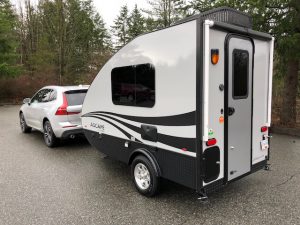 The Ascape grew only in the most important areas over the ProLite Suite. The Suite was an excellent way for us to get back into RV'ing after selling our GMC Motorhome. It proved that we were able to go traveling/camping without having to lug a big trailer around.
The Suite was basically our Bed on Wheels. Occasionally I looked to see what else was out there.
It wasn't until I ran across the Ascape by Aliner online that my interest was peaked to consider a trade-up. Better yet, there was a local dealer with stock.
The Ascape addressed what we wanted to improve, without extra baggage (extra, empty space). The Ascape has stand-up where it's needed, in the kitchen area. Eating and sleeping has ample headroom and while the Ascape is higher I'm hoping that the extra drag will have minimal effect on milage and actual trailering.
While the Ascape had the extra space and amenities we wanted, there were some tweaks needed to make it ours. I want minimum dependence on hydro, yet we enjoy watching movies while camping or enjoying simple overnight stops during travels. Included in the Ascape as picked up was a 24in TV and a sound-bar, both requiring AC. TV was changed to a 12V 24in with DVD player built in. Sound in the TV's of that size are pretty awful, no matter what brand. The LG sound bar Aliner used in the Ascape is excellent but it requires AC. I tried to swap it for a BlueTooth speaker but ultimately went back to the LG, feeding it AC via a Sine Wave Inverter. I'm hoping that the 40 watt solar will keep battery topped up. I stayed with single 12 volt battery versus 2×6 to keep the weight down on the tow bar.
…to be continued.