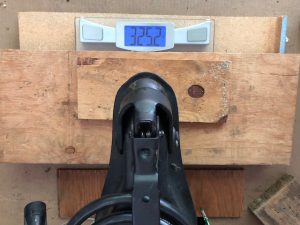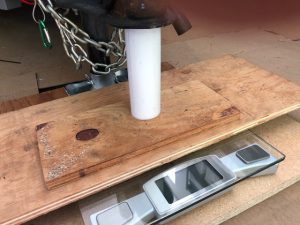 UPDATE-4: Loaded for first trip of the season. On hitch: 1785 lbs. Trailer loaded for travel: 2050 lbs. Resulting hitch weight: 265 lbs.
UPDATE-3: After changing battery and solar, etc., etc. I'm at 292 lbs. on the hitch. Not quite actual camping configuration but I think I have it real close. Hope to confirm next trip out.
UPDATE-2: Settled on 2 x 11 lb tanks. Found that 5 lb was a bit skimpy and 11 lb tanks are same as 20, but less height.
UPDATED: Going to change the 2 x 20 lb propane tanks to 2 x 5 lb. That will still give me the convenience of switching tanks when first is empty yet will loose the pounds on the A-frame I wanted to loose.
— *** —
Played around with hitch weight today. Was hoping to get to a target of 300 lbs.
My weighing setup is a bathroom scale with a pipe to concentrate weight at inside of coupling.
I couldn't get it to the desired 300 lbs. but made some strange observations.
I started out with full fresh water as that's how I'd like to travel. I ended up with a few gallons of fresh water and 316 lbs.
Some interesting points… 5 gallons out and 2 gallons in grey water I was at 315. Removing the 2 gallons of grey got me to 313. Observation… moving fresh to grey has minimum effect on hitch.
A disappointing observation was that a tremendous amount of weight would have to be added to the trailer itself to get to the 15% ration. I played around with water containers placed by the door and rear-most biffy lid and even with 11 gallons of water plus 44 lbs of landscape blocks in the rear on the floor, still no target 300 lbs. That means that even with fridge full of goodies hitch weight would still be over 300 lbs. I see this as the only way to get hitch weight to 15% of trailer weight would be to add to trailer weight. Not exactly my first choice.
The only good results towards 300 lbs. were achieved by removing weight from the A-frame itself. Removing spare tire and one propane tank had the greatest effect. Got down to 268 lbs. in that configuration. Going to explorer changing the dual tank setup to a single.
Actually… instead of going to single propane tank I'm going to 2 x 5 lb tanks and I will be on or real close to the target of 300 lbs. Solved!!!