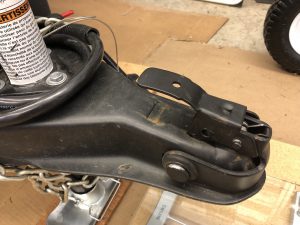 As best as I can tell, the coupler on my Ascape is a RAM CA5210-B A-Frame coupler.
While it seems very secure it is lacking any kind of adjustment resulting in a noisy coupler – ball matchup. Most other coupler allow for some adjustment of the latching part.
Is mine the only noisy one? By noisy I don't mean a constant rattling but some play is noticeable going over bumps, railroad tracks, etc.
My receiver is a tapered fit and solid so I'm pretty sure the source of my noise is coupler/ball match up.
Wondering if your Ascape has same coupler and whether you have same experiences re coupler/ball noise.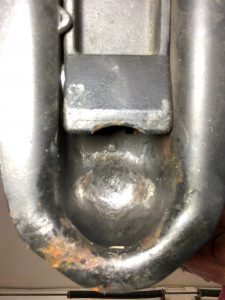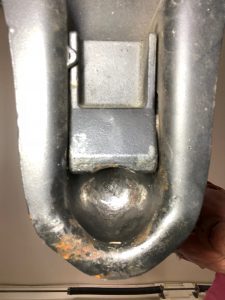 Usually the receiver is the source of noise and rattling but that is easily taken care of by an anti-rattle clamp. I used an anti-rattle clamp with my Santa Fe's and it worked very well.
The hitch on my Volvo is by StealthHitches. The hitch is not visible unless actually towing. The receiver locks into a tapered receptacle.
Update: September 26/15.
Seems I'm the only one annoyed by the rattle the unadjustable coupler produces. My early solution was a folded over ziplock bag. However, it certainly was not ideal.
Solution finally came to me while looking at an Ascape with my dealer's service manager. He didn't have a solution and has had no complaints but a light went on for me.
After a few trial and error attempts my version 2.0 solution consists of some threaded 5/16th rod, a block of wood and a large thumb nut for final adjustment.
A spring is used to add anti-shock tolerance. Probably not needed.
To keep it in place in actual usage I plan to use a piece of velcro strap wrapped around tow bar by the wooden block.
If you want to build your own let me know and I'll provide more details about this one.