UPDATED: Added NaviLink WiFi connect.
Also added a Whole House Water Monitoring/Shut-off.
Last week-or-so-ago the Nest Protect woke me up with a few beeps and the announcement "Carbon Monoxide in Laundry Room, very loud alarm may sound".
Laundry room houses our Boiler and Hot Water tank in a "closet", both on Natural Gas.
I shut the boiler off, opened the window and closed the door to the laundry room, preventing the loud alarm to go off. A bit later Nest Protect confirmed that the Carbon Monoxide had cleared.
Now for the fun part… The boiler has been giving us heat for 30+ years with only the occasional pump replacement being required. Some years ago we built a garage with in-floor heating. The garage was added to same boiler. The boiler has served us well. Now it needs attention though. The tech that used to look after us is retired by now and his replacement couldn't come out for a day or so. He did ask age of boiler and when told 30+ years he simply said "You need a new one".
Ok, but who is going to do it? I called around and responses were varied. Ranged from having to pay for an estimate, which would be refundable, to send us pictures and we'll be able to quote without coming out. Didn't really feel good about that but since I had no idea what the norm was these days I sent pictures and kept looking.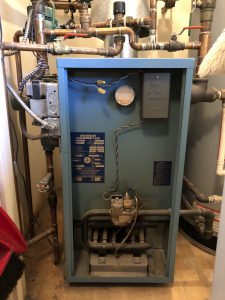 BroMac Mechanical was among the first I called due to seeing a mention in our neighbourhood FaceBook group. Brody returned my call promptly and arranged to come by later that eventful morning.
Again… not knowing what I was in for I called a few others and one company promised an estimator later but on same day.
Of course as it would turn out, they both showed up at the same time. Oh well, that's the way it goes/went.
BroMac is a relatively new company but I had seen some good comments on Facebook. The other was a large company, well established with glossies and awards to show off.
This is what they both found, boiler as above.
Boiler and Domestic Hot Water are housed in a closet behind bi-fold doors.
In case anyone is wondering re the criss-crossing of pipes and valves on top of the boiler… they served to reduce temperature for the in-floor heating in the garage that was added some years after the house was built.
Brody inspected and looked at the "closet" and asked if it was ok if he emailed a quote later in the day. I had no problem with that. I assumed he was wearing more than one hat and appreciated that he wanted a bit of time to get it right.
The "other" left a quote on the spot, but of course estimating was the only hat he was wearing.
I was glad that I was able to get responses so quickly and truly appreciated getting quotes same day. As Nest Protect told me about a Carbon Monoxide problem turning the boiler back on was not an option.
I spent the afternoon researching on the Internet. I now had some ideas and options to consider. During the afternoon I received another quote based on the pics I had sent out to several other mechanical service companies.
By the time evening rolled around I had three quotations to work with. By now I was doing a bit of preliminary thinking as to what I could expect from each. A larger organization would have more techs available but I know that doesn't always translate into good service as one will probably never deal with same tech more than once. The alternative was a smaller business that might treat my job with a bit more passion and appreciation and also permit better home owner involvement. Knowing that retrofits almost always come with a moving goal post, it was important for me to be able to stay involved so that the unexpected can be resolved quickly and to my satisfaction.
By now I had a better idea of options.
Replace with similar boiler.
Replace with a High Efficiency boiler.
Replace with a High Efficiency combination boiler.
The combination boiler would replace my broken boiler and the hot water tank.
During my time to decide I had questions, many questions. Brody answered them promptly during our email exchanges that went into the evening. I very much appreciated his availability via email as I wanted to make my decision the following day, with the best information I could muster.
With questions answered and a bit more research time I had enough information to "sleep on".
At this point I'm still undecided as to who would get the work. Also undecided was direction to go in… option 1, 2 or 3.
Next morning, more email exchanges until I knew what I wanted. Now for the "who" is going to get the work. Just because BroMac was a relatively new business, I did not want to base my decision solely on that so I asked Brody to sell me on BroMac. He did so with a phone call and I had my installer.
Now to tweak what we wanted to do and set a start date.
It's easy to promise the world when trying to make a sale but I was comfortable that doing it right would not just be an idle promise.
I decided to upsize the Combi Boiler a bit so that I would not have regrets down the road. Brody recommended Navien and we settled on the Navien 240-E Combi-Boiler.
It was a given that circulating pumps and other incidentals would be replaced as part of the installation.
My decision to do option 3 was based, in part, to not wanting to go half way. Even though the water heater still had a few years left I wanted the new boiler to go on the outside wall and that's where the water tank lived. Besides, I know that I would have regrets by doing piece-meal so the water tank was going out early. Start date was a few days later with 2-3 days estimated for the install. We settled in for surviving on heat from gas fireplace and a couple of electric heaters.
For the start date we stocked up on water as we knew water would be off. The plan and hope was that it would only be off for the day. Best laid plans don't always go as planned and neither I nor Brody wanted "short-cuts" so we easily accepted that just getting cold water back was good with us. I might mention here that Brody was great at communication progress, or lack thereof, We never had the feeling of being left in the dark.
Wondering what the inside of the boiler was like?
I hope that the pipes throughout the house don't look like that. We have the grey plastic (Poly B) as that was used in the days when the house was built.
Fingers and toes crossed that stainless steel boiler and adequate air evacuation will help us to give the pipes best chance for continued service.
The pictures are looking into the boiler, fitting near boiler and circulating pump.
All the piping in the boiler room closet was replaced.
Work-in-progress:
Zone valve and associated piping came straight out of the wall. They are now nicely against the wall. Shut-off valves are placed so as to make future maintenance and circulating pump changes easy.
The end result: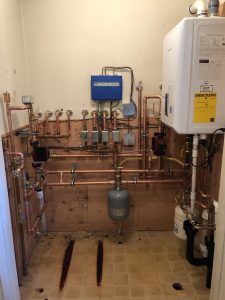 New plywood floor to finalize the boiler closet upgrade.
In Summary:
Boiler repair/replacement was not on our immediate to-do list but the carbon monoxide warning certainly put it there in a hurry.
Totally unprepared is putting it mildly.
The repair turned into an upgrade/modernization. As to wether it was worthwhile, only time will tell.
I am satisfied as to how the work was performed. work was done in a timely manner with good workmanship.
The work was done by BROMAC Mechanical. If you have plumbing and/or heating needs give Brody a call at 604-360-2710 and/or visit the website.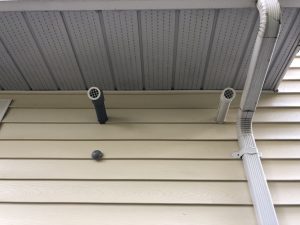 Even the outside looks good.
Installation was easy, as was WiFi configuration. I should now be getting a notification on my iPhone based on some Alarm criteria such as a Device Error.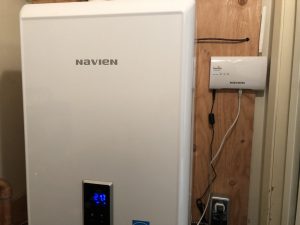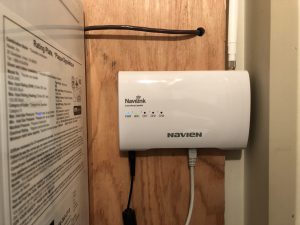 A catastrophic plumbing failure is often on my mind, especially when out camping or otherwise away from home. Since my house is already somewhat automated I thought it was going to be an easy task as some Zwave devices are available to turn the valve handle, etc. I never felt comfortable enough to install such a home-brewed system so the parts just stayed in their boxes, where they will probably remain for the immediate future.
I continued my research and eventually settled on a kit called Water Hero.
It's available in Canada from TechniCraft.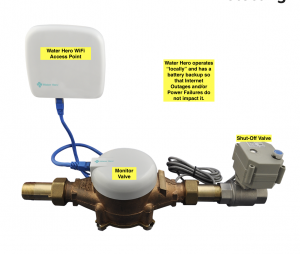 Above is an overview of the components.
The corner of our crawlspace where the water comes in is tight, to say the least. I had a shutoff installed some years back so that we wouldn't have to shut off at the street, which involves getting someone from the Township to come out. My sprinkler feeds off that corner too and since a lot of my sprinkler piping is oil the crawlspace I wanted the Water Hero inserted right after the shutoff so as to include sprinkler and house as monitoring target.
As if that wasn't complex enough, I also wanted a by-pass in case Water Hero needed some attention or parts replaced.
It all added up to more than I wanted to handle as a DIY project so I farmed that out to BROMAC Mechanical. After all, they did a good job on our boiler replacement.
It took some time and head scratching to design the plan that was ultimately followed.
After many hours of crouching in our crawlspace the BROMAC crew happily called it done.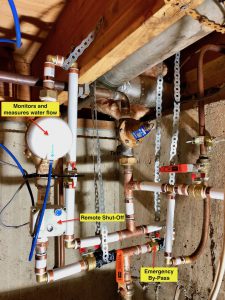 A confusing looking piece of art but exactly what I wanted. Sprinkler line is protected and there is an easy way to implement by-pass for just in case.
Because I have the sprinkler in the system I had to make some changes to its schedule. I currently have it set to send me a text/email if water runs for 30 minutes and have shut-off set to 60 minutes. I'll fine tune that as time goes.
When in Away mode I expect to use 3 minutes for alert and 5 minutes for shut-off.
While I hope it never has to activate it's one more piece in my arsenal to protect our home.