I'll keep this one at the top and will try to keep it updated with summaries of my tweaks.
Filling in descriptions is done on a time available basis. Come back occasionally if my babbling is of interest to you.
Shortcuts to my tweaks:
12 Volt External Outlet
Front Wall
Tire Monitor
Early on I knew I would want to add 12 Volt outlets USB charging, etc. I also did not want to have to rely on shore power to enjoy my Ascape. Minimum invasion to existing electrics was a priority. I tapped into a 30 amp circuit at bottom fuse location in the main panel. I can't recall if I repurposed the fuse are if it was an unused one just waiting for me.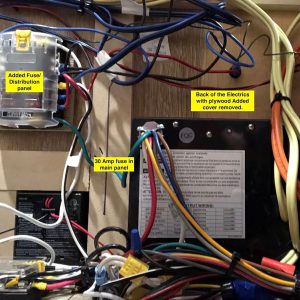 I added an extra fuse panel and also a distribution bus. Everything I added would go through the single connection with existing wiring.
Additional wiring was #12 stranded pair and each run is properly fused, depending what it is. There are separate runs for USB charger, TV, etc.
The new runs are tie-wrapped to existing wiring bundles.
I used crimp-on connections and plugs so that should a device need to be changed it'll be easy to do.
I did not use any of the press-on/fold-over connections. I don't trust them. Just personal preference.
Amazon:
One of my first additions was to get 12 Volts to the outside. I gained access by taking the panels off next to the heating thermostat.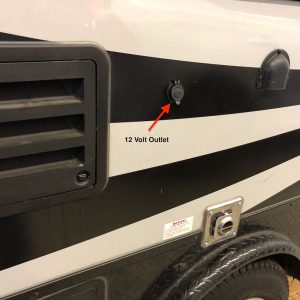 While I had that panel removed I also added a 12 Volt and USB charger outlet.
Were I to do it again I might consider installing in the cover itself so as to get it closer to outside wall. It's a pretty skinny cover so a metal replacement might be warranted.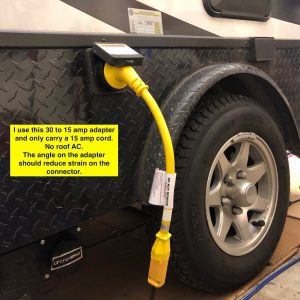 At home the trailer is usually plugged in to an outlet that's part of my home automation. The plug is only powered about 3 weeks and then off for a week.
So as to reduce staring on the shore power plug I use this angled one. Since I don't need power for AC I only use and travel with a 15 amp cord.
Sound bar removed as it needed 110 power. Same for original TV.
TV was replaced with a 19 inch, 12 Volt TV/DVD combination.
We found the 19 inch size to be more suitable for watching while in bed.
I had a 12 Volt amplifier installed with 2 x 2 inch speakers but found that sound direct from TV suited us just fine.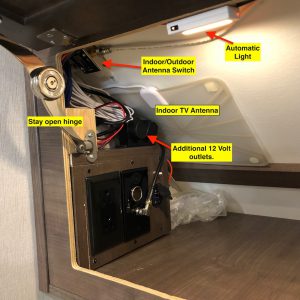 Hold up hinges are installed all-around. Details here.
I left original 110 outlet and 12 volt too.
I added 12 volt outlets above the original and also behind the TV/DVD combo.
There was enough room in the existing channel to add the new wiring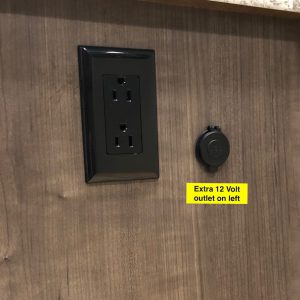 I can't recall which AC outlets are original or added. I do recall however that sourcing the outlets was a bit of a pain until I hit on the correct description.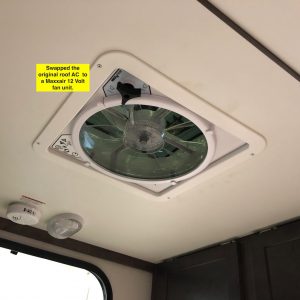 Roof air was removed and replaced with a MaxxAir fan.
12 Volt fan fits us much better than AC.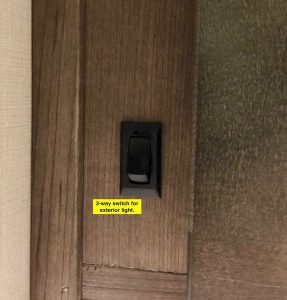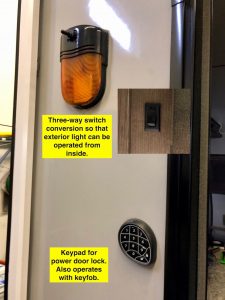 One of the nicer, but harder mods was to convert the exterior light to a 3-way so that it could be turned on/off from inside, before opening the door to strangers. Of course there are no strangers in the camping world but it's still very convenient.
Changing tables.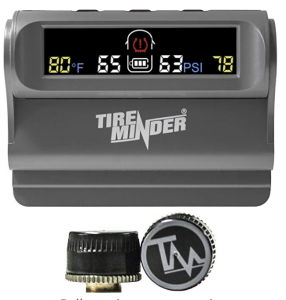 The TireMinder is specifically for RV/Trailers. The kit includes a repeater that I mounted on the A-frame so that it would be between sensor/transmitter and receiver that I place on the centre console of my Volvo.