Got to test out the mods made last fall. Some good, some not so good.
Not so good: The drawer I built turned out too cumbersome in actual use so will be removed before next trip.
The good 1: Fridge setup was great. Will be looking to improve it some where fridge gets fed 12V from trailer anytime trailer is hitched up and tow vehicle not running.
The good 2: Solar setup is looking good. Our norm was Engel fridge and TV/DVD running all night with occasional vent fan use and lowest voltage observed was 12.4 in the morning before solar started to be effective again.
Update:
While the "basement" was still relatively empty I took this pic to show how I store the awning pieces. We made a better fitting bag out of some towel-like cloth and it lives at the front of the trailer and serves as a shelf for a few things. Makes for easy access for things like single burner camp stove , etc.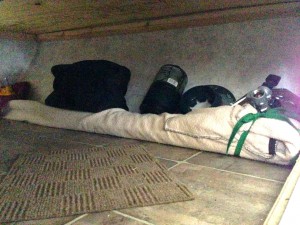 Update2: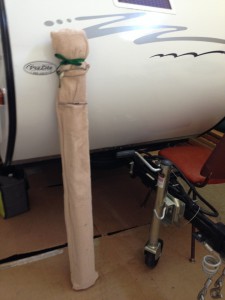 The original bag was a bit small so we make one from towel-like material and added a pocket at the top for the smallish pieces.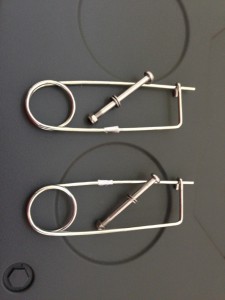 These large clips are used to assemble the awning bar halves instead of the original bolt and nut scheme.
(Showing the original nut/bolt as reference only)