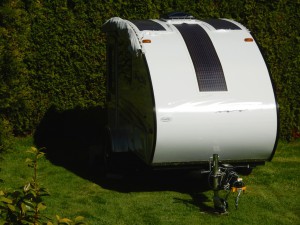 Moved the Suite to the backyard to see how power management changes are working out.
Have Engel fridge running on AC via converter. Fridge is loaded with a 12-pack. Using the fridge on AC to get the environment closer to real. Fingers crossed that I'll work as hoped.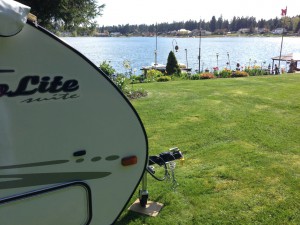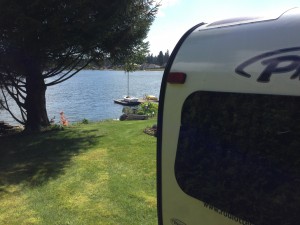 Day One:
Not the greatest for solar but panels were putting out 12.7 Volts and half an amp going into battery at 8AM.
By 11:30 and with a few breaks in the overcast we have 2.2 amps going into battery.
Day Two:
Rained all night. Not looking good for sun today. Charging at 0.8 amps and Voltage is at 12.66 at noon. Fridge holding at +1C/33F.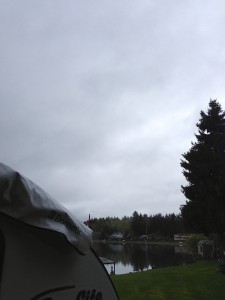 Day Three:
9:00 AM and sun is finally out, but only intermittently. Battery voltage: 12.45 and 0.5 amps going into batteries. Hopefully more as the day goes but so far I'm quite happy with the pseudo-campout results. Fridge maintaining temperature as set, just above freezing.
11:30 and still only partial sun but power up to 1.5 amps going into battery.
Still running fridge on AC via Inverter, figuring the Inverter overhead will equate to normal fridge openings throughout the day.
2:30 PM. Up to 12.94 Volts and 2.3 amps, with a bit more sun, going into batteries.
7:00 PM. Battery Voltage is 12.39.
Tomorrow I'll take a final reading in AM and then decide next step dependent on weather. Overall, I'm happy with the results. I doubt we'd be staying in a dry place for longer than 3-4 days, especially without at least some sunshine.
Day Four: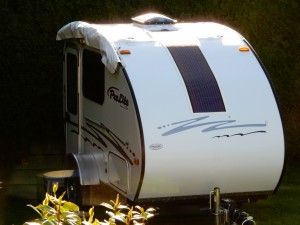 8:20 AM. Sun staring to hit the top panels. Panels are covered in heavy dew.
Batteries at 12.26 Volts and we are just starting to store power at 0.2 amps.
Throughout all this, fridge temp is being maintained a tad above freezing.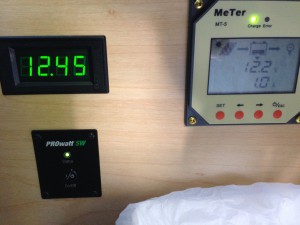 6:00 PM. Had only partial sunshine today but we still stored a bit of power.
Tomorrow it'll be time to tow the trailer home and call the exercise a success.
Day Five, going Home: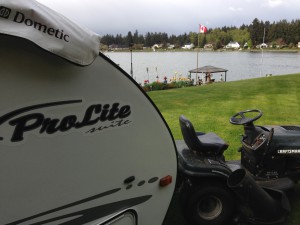 Hitched up the lawn tractor to head back home and some Hydro.
Start of day five and volts still above my self imposed threshold of 12.0 Volts.
Overcast morning but solar is starting to charge battery.
I don't think we'll be chased out of a camping spot for lack of juice anymore, in normal weather that is.
Homeward bound.