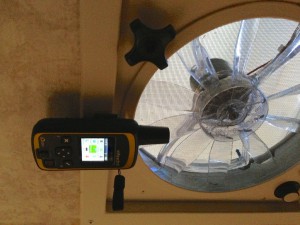 To help me be accessible while travelling and to let family know our whereabouts I use the DeLorme InReach SE. Using the SE is more reliable than cellular because it doesn't need cell towers, only a view of the sky.
I think I found the right location during travel by installing a holder where the SE can clip to right underneath the trailer vent. Stays dry and it can see the sky.
The SE connects via BlueTooth to my iPhone and provides not only communication but also mapping in the tow vehicle.
The other useful accessory is now a permanent fixture in the trailer.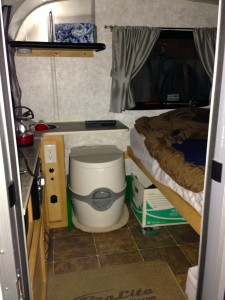 Our mode of travelling/camping is to leave the bench in bed position. As needed the PP gets pulled out and pushed back out of the way for 99.9% of the time.
Certainly makes camping as Seniors more enjoyable.
We also found that simple cardboard file storage boxes make for the most efficient access/storage during our travels.