My Ascape came with a 40 watt panel and associated controller. I've already upgraded battery to 2 x 100 AH Lithiums, located inside. Next on the list was to increase solar power to feed the batteries.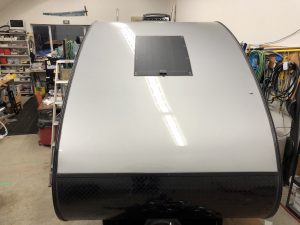 The panels I decided to add are from Global Solar. I ordered from the parts department at Safari Condo. They use them in their Alto trailers.
In preparing for the upgrade I researched wire size, controllers, etc. and decided on 10 gauge wire, connecting all 3 panels in parallel.
Since I had already replaced the original wiring with 12 gauge wiring I decided to leave that in place and use new #10 wiring for the 2 100 watt panels.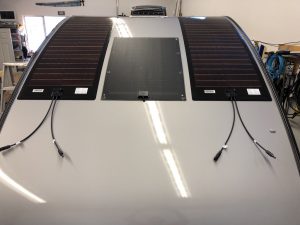 Actual installation turned out to be easier that expected. Perhaps the time spent on preparation paid off at the end.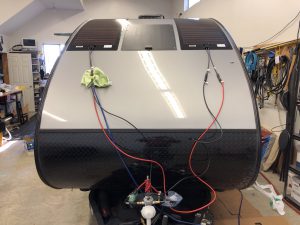 Going to leave it connected with a temporary 50 foot harness to confirm all is well before drilling holes in the trailer. I see about 13-13.2 volts inside my garage when sun is bright and with fluorescents on. Currently using PVM controller but will be upgrading to Renogy MPPT controller before making the installation permanent.
Update: Jan 27/19: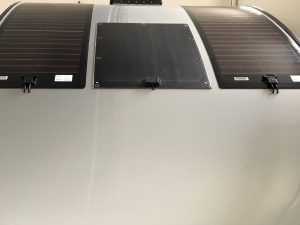 Bit the bullet and drilled the holes to get the leads inside.
Taking a bit of a risk by relying mostly on cable insulation to protect going through roof. Didn't want the normal bulky covers as it's always in view.
Since there is no harm in shorting the panel I went this route. I can always go to the bulky/ugly later on if it becomes necessary. I'll be fusing each 100 watt panel separately. Since the 40 watt is original I'll leave it as is, unfused.
While waiting for fuses I installed the Renogy Rover MPPT controller. My first choice is to install on top of cover that encloses the power/fuse panel and charger.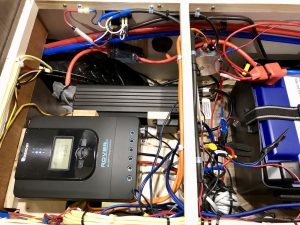 Not ideal spot for heat dissipation or possible noise as one sleeps right above it.
I'll be installing a temperature monitor to keep an eye on heat and if it looks like a problem it'll be relocated towards the front of the compartment. Same goes if noise is a problem.
Updated Feb 14, 2019:
Changing from the Renogy controller to a Victron MPPT. It is smaller in size and will allow for a better mounting location.
Also changing to serial connection for the 2 100 watt panels. Turned out that wiring would be a bit more simplified.
Updated Feb 15, 2019: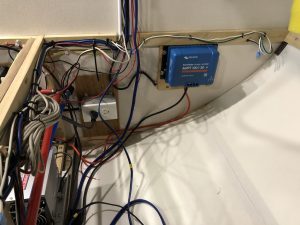 Victron 30 Amp MPPT in place.
Still a work-in-progress but since we're still in winter mode… no rush.
Mounting plate is 1/2 inch plywood glued to side wall using construction cement and usually 2 screws to hold it in place while glue dries.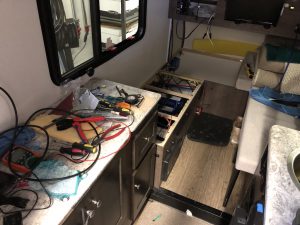 Countertop makes for a nice work bench.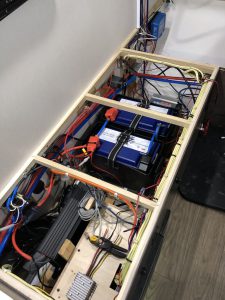 In case anyone is wondering…The gadget in lower right corner is a DC–>DC regulator to assure a constant 12 Volts out. I feed the TV circuit with it just in case the TV doesn't like 14.6 Volts as batteries reach topped up.